Source: Breitbart, by CARTEL CHRONICLES, 11 Aug 2017
REYNOSA, Tamaulipas — Cartel gunmen continue spreading terror throughout this border city with two separate grenade attacks in as many days.
The most recent incident took place this week when cartel gunmen threw a grenade at the public safety building in Reynosa. The explosive device landed on the roof of the building and detonated, information provided to Breitbart Texas by Tamaulipas law enforcement officials revealed.
While no injuries were reported, officials surrounded the building while investigators surveyed the damage and spoke to neighbors. Local residents pointed to seeing a young man running out of an alley behind the law enforcement building. On the same day of the attack, Tamaulipas Governor Francisco Cabeza de Vaca was in Reynosa for various public events, however, he was not in the security building when during the attack.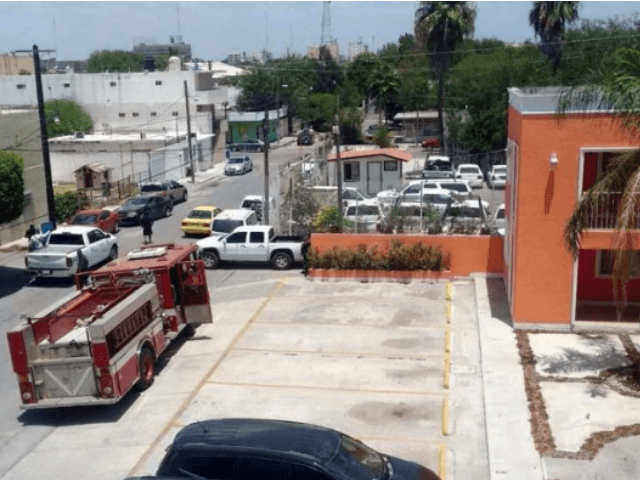 Since early May, Reynosa has turned into a battleground where rival factions of the Gulf Cartel continue to fight for control of lucrative drug smuggling and drug trafficking routes, Breitbart Texas reported.  The rivalry between the cartel factions led to more than 100 murders, regular shootouts, executions, kidnappings, extortions, and highway robberies.
Editor's Note: Breitbart Texas traveled to the Mexican States of Tamaulipas, Coahuila, and Nuevo León to recruit citizen journalists willing to risk their lives and expose the cartels silencing their communities.  The writers would face certain death at the hands of the various cartels that operate in those areas including the Gulf Cartel and Los Zetas if a pseudonym were not used. Breitbart Texas' Cartel Chronicles are published in both English and in their original Spanish. This article was written by "A.C. Del Angel" from Tamaulipas.