Source: Breitbart, by JOHN BINDER, 11 Jan 2018
The United States has imported about 150,000 foreign nationals from terrorist-funding countries through the processes known as "chain migration" and the Diversity Visa Lottery program over the course of the last decade.
Data from the Department of Homeland Security (DHS) reveals the scale to which foreign relatives of immigrants in the U.S. have been able to mass immigrate to the country over the last few decades. This process is known as "chain migration," whereby new immigrants can bring an unlimited amount of foreign family members with them to the U.S. On average, every two new immigrants bring about seven foreign relatives to the U.S. with them.
In total, chain migration has imported more than 117,000 foreign nationals since 2005 from three countries that the State Department recognizes as state-sponsors of terrorism: Iran, Syria, and Sudan.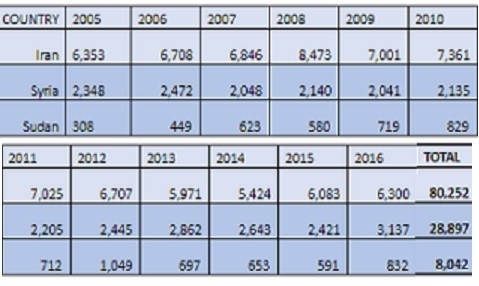 Chain migration was responsible for bringing Ahmed Amin El-Mofty, a 51-year-old from Egypt, who allegedly targeted Pennsylvania police officers in December 2017 in a terrorist attack, 
Breitbart News
 reported.
Name of suspect just released: Ahmed Aminamin El-Mofty, 51 years old @CBS21NEWS
Earlier in the month, Breitbart News reported how chain migration also imported accused suicide-bomber Akayed Ullah, a 27-year-old Bangladesh national, who allegedly attempted to detonate his bomb in New York City in an ISIS-inspired attack.
Ullah, as confirmed by DHS, entered the U.S. in 2011 as a chain migrant. Ullah came to the U.S. through the chain migration F43 visa, allowing him to obtain a Green Card simply because his father's brother or sister had recently been naturalized as a U.S. citizen.
JUST IN: 27 y/o Terrorist who is from Bangladesh and was living in Brooklyn, told authorities "They've been bombing in my country and I wanted to do damage here, Terrorist was also a cab driver.
 Additionally, the Visa Lottery program has imported about 30,000 foreign nationals to the U.S. from Iran, Syria, and Sudan, all countries which fund terrorism, as recognized by the State Department.
Under the lottery program, championed by former Sen. Ted Kennedy and Sen. Chuck Schumer (D-NY), the U.S. randomly gives out 50,000 visas every year to foreign nationals from a multitude of countries, including those with known terrorism problems – such as Afghanistan, Algeria, Egypt, Iraq, Lebanon, Libya, Nigeria, Saudi Arabia, Somalia, Trinidad and Tobago, Venezuela, Yemen, and Uzbekistan. Winners have undergone only minor screening from immigration officials, even when their ideology is hostile to Americans laws and culture.

The U.S. has brought in nearly 21,000 Iranian nationals, 2,732 Sudanese nationals, and 812 Syrian nationals on the Visa Lottery — not counting subsequent chain-migration of additional unscreened people from those countries — even though all three countries are listed as state sponsors of terrorism.
Over the last half-decade between 2012 and 2016, as Breitbart News reported, 72,794 foreign nationals have come to the U.S. on the Visa Lottery from countries that the Immigration and Customs Enforcement (ICE) agency has designated as terrorist-sponsors.
In 2016 alone, more than 15,600 foreign nationals entered the U.S. from terrorist-sponsored countries. Those countries included Iran, Iraq, Saudi Arabia, Afghanistan, Somalia, Syria, Sudan and Algeria.
In November 2017, it was discovered that the Visa Lottery had imported Uzbek national 29-year-old Sayfullo Saipov who allegedly murdered at least eight individuals in an ISIS-inspired attack in New York City.
Saipov was allowed to enter the U.S. through frivolous immigration policy. In 2010, Saipov won one of the 50,000 visas randomly allotted every year under the Diversity Visa Lottery.
Expert: Diversity Visa Lottery Used by NYC Terror Suspect 'Ideally Suited For Terrorists' http://www.breitbart.com/big-government/2017/11/03/expert-diversity-visa-lottery-used-nyc-terror-suspect-ideally-suited-terrorists/ …

Expert: Diversity Visa Lottery Used by NYC Terror Suspect 'Ideally Suited For Terrorists' -…

The Diversity Visa Lottery program, which gives out 50,000 visas, is "ideally suited for terrorists," according to an immigration expert.

breitbart.com
President Trump has called for the immediate end to both chain migration and the Visa Lottery, instead favoring a merit-based system wherein the U.S. more selectively chooses its immigrants based on high skills, English proficiency, ability to quickly assimilate to American culture, and their fondness for American values.
Every year, more than 1.5 million illegal and legal immigrants are admitted to the U.S., with the current foreign-born population booming to an unprecedented high of roughly 44 million individuals. Mass immigration to the U.S. has been at the expense of American workers in the working and middle class who have been forced to compete with mostly cheap, low-skilled foreign labor while their wages have remained stagnant.