Jamie Harrison's top aides have a long history of anti-semitic and homophobic remarks
Source: Washington Free Beacon, By Collin Anderson – 
South Carolina Democrat Jaime Harrison, whose top campaign aides made anti-Semitic, sexist, and homophobic remarks online, has faulted police departments for failing to vet the social media accounts of prospective officers.
Harrison, who is challenging Republican senator Lindsey Graham, said it would be irresponsible to hire someone without first "digging into" their past public statements.
"Let's make sure we are—before you give somebody a gun and a badge, you're perusing what they put on social media," Harrison said in an October 2019 radio interview. "Digging into their background to find out that they haven't said anything with racial bias or racial hatred. Are we looking at the things they post on social media? Are we looking at who they interact with and how they interact with those folks? All of these things need to be important factors."
Just months before the interview, Harrison hired Bre Maxwell and Guy-Lee King to serve as his campaign's political director and communications director, respectively. Both Maxwell and King repeatedly used homophobic slurs online, with Maxwell tweeting the terms "faggot" and "fag" at least six times from January 2012 to August 2013. Harrison, who did not respond to a request for comment, told the State that the matter "would be handled internally," adding that his staff's language "has no place in our state."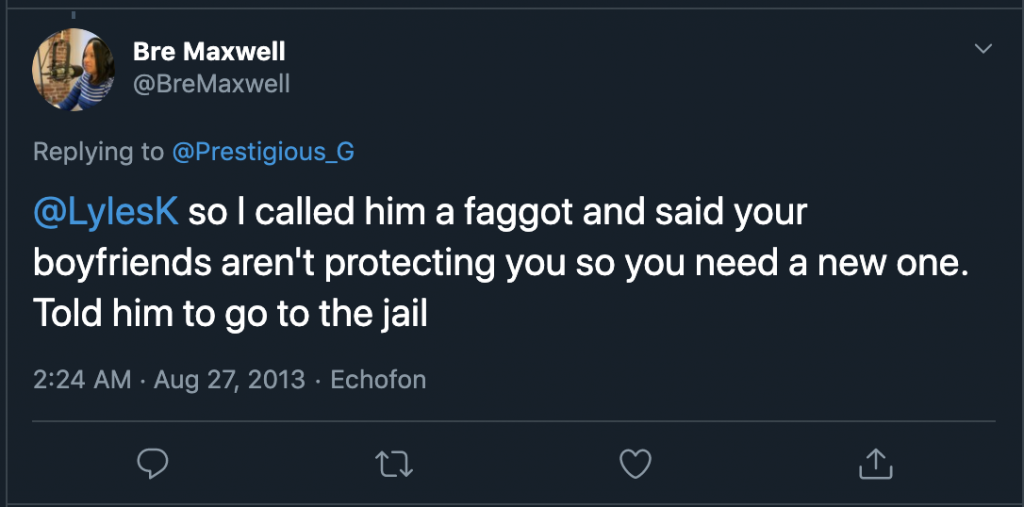 Maxwell also criticized the use of the term "ghetto" in a 2012 tweet "because ghetto is a Jewish term and the jewish Americans are wealthy." Two years later, she praised anti-Semitic Nation of Islam leader Louis Farrakhan. King, meanwhile, routinely made disparaging comments toward women, tweeting, "U ain't to fat n ugly to git raped LMAO!!!!!!" in 2010.


Both Maxwell and King still work for Harrison, according to their Twitter accounts.
After a Washington Free Beacon report exposing the offensive remarks, Maxwell locked her Twitter account and deleted her LinkedIn profile, while King deleted thousands of tweets.
The South Carolina Democrat argued that reviewing prospective police officers' online comments could alleviate "some root causes" of police brutality. "I've had people who have worked for me who have tried to get jobs in the federal government and so, therefore, the FBI will come and ask you questions about, 'Well, has this person ever done this?'" Harrison said during the 2019 interview. "Are we doing the same thing for our police forces in some of these local communities?"
A South Carolina gay-rights group, SC Equality, excused Maxwell and King's comments, urging South Carolina residents to "get back to focusing on the campaign." The group's 2015 "LGBT Best Practices Manual," however, linked the use of homophobic slurs to "alarming rates of bullying in schools" and increased suicide rates among "LGBT youth." Maxwell previously served on the group's board in 2017.
Harrison ran unopposed in the state's June primary and will face off with Graham in November.