Source: Epoch Times, By Jack Phillips, January 2, 2022
Nearly 2,000 flights have been canceled on Sunday, the day after New Year's, amid staffing shortages and poor weather conditions in some parts of the United States.
Some 1,964 flights have been canceled within, into, or out of the United States as of Sunday morning, according to tracking website FlightAware. Meanwhile, about 1,200 delays have been reported, the website's data shows.
Chicago's O'Hare International Airport has seen the most delays and cancelations, with nearly 500 flights canceled, the tracker shows. Next is Denver International Airport with more than 200 cancelations.
Sunday's mess of flight cancelations can be blamed, in part, on snowstorms that have impacted O'Hare and Denver's airport. Meanwhile, some have suggested that flight crew shortages are also to blame amid a bevy of COVID-19-related sick calls in recent days, which has likely been exacerbated by airlines' vaccine requirements for staff.
SkyWest Airlines, which operates flights for American, Delta, United, and Alaska airlines, has seen the most cancelations on Sunday. About 18 percent of its scheduled flights, or 425 flights, have been scuppered, the data shows. Mesa Airlines, Envoy Air, and Air Wisconsin—also regional carriers—have canceled dozens of flights on Sunday.
Among national carriers, Southwest Airlines has canceled some 7 percent of its flights, or about 264, on Sunday. The Dallas-based firm told news outlets that it suspended operations in Chicago over the weekend due to a snowstorm.
Delta Air Lines also saw about 160 flights, or 6 percent, get canceled Sunday. Delta's CEO, Ed Bastian, in December asked the Centers for Disease Control and Prevention (CDC) to cut the isolation time for people who test positive for COVID-19, the disease caused by the CCP (Chinese Communist Party) virus, from 10 days to five days—and the CDC changed its recommendations to five days last week.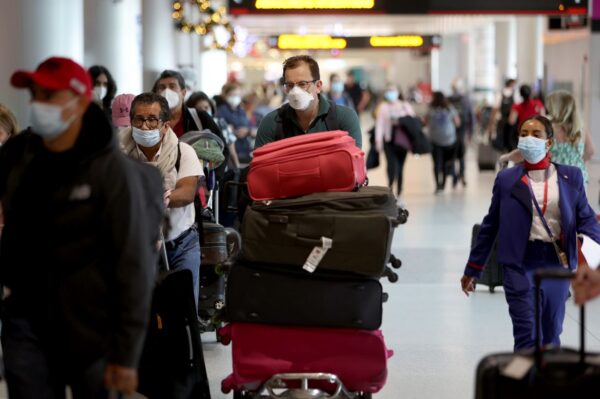 JetBlue canceled about 169 flights, or 16 percent, on Sunday, coming after the New York-based firm said last week that it would proactively cancel some 1,300 flights due to staffing issues. Last year, JetBlue CEO Robin Hayes announced that employees at the firm, which is a federal contractor and must comply with the Biden administration's vaccine mandate, would have to get vaccinated, leading to some layoffs.
On Saturday, about 2,300 flights in the United States were canceled, continuing a trend of widespread cancelations that has lasted more than a week. Some carriers have blamed the rise in Omicron variant cases, leading to staffing shortages, while others have said that the travel demand for Christmas and New Year's is high.
Reports have said that over the past week, about 14,000 flights have been canceled in the United States.
"The nationwide spike in Omicron cases has had a direct impact on our flight crews and the people who run our operation," a United Airlines spokesperson told news outlets Saturday. "As a result, we've unfortunately had to cancel some flights and are notifying impacted customers in advance of them coming to the airport."
The Federal Aviation Administration (FAA) on Thursday warned of even more travel delays in the coming days due to COVID-19 infections among FAA employees as well as "weather and heavy seasonal traffic." On Thursday, the TSA screened about 2,049,604 people at airport checkpoints across the Unied States, down slightly from 2,392,331 in 2019—but much higher than 2020 levels.
Also, outside the United States, about 1,500 flights have been canceled—with the bulk apparently occurring among Chinese carriers, FlightAware data shows.