Source: Breitbart, By Bob Price, October 23, 2023
U.S. Customs and Border Protection officials announced that Border Patrol agents apprehended more than two million migrants for the second consecutive year. The report, snuck out in a Saturday afternoon media dump, confirms an October 1 article by Breitbart Texas that revealed the apprehension of more than 218,000 migrants in September.
Since President Joe Biden took office in January 2021, Border Patrol agents apprehended more than 5.7 million migrants who illegally crossed the southwest border between ports of entry, the reports indicate.
"In response to high rates of encounters across the southwest border in September, CBP surged resources and personnel. We are continually engaging with domestic and foreign partners to address historic hemispheric migration, including large migrant groups traveling on freight trains, and to enforce consequences including by preparing for direct repatriations to Venezuela," Troy A. Miller, Senior Official Performing the Duties of the Commissioner said in a written statement on Saturday. "CBP will continue to remain vigilant, making operational adjustments as necessary and enforcing consequences under U.S. immigration law.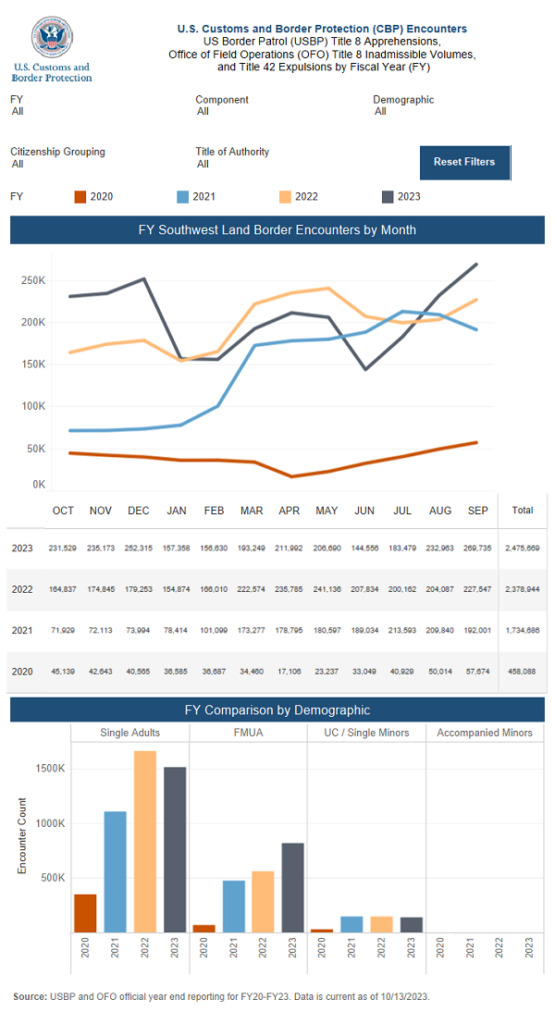 The 2,045,838 apprehensions include nearly 1.3 million single adults, 621,000 family units, and 131,500 unaccompanied minors, the report indicates.
In contrast, during President Donald Trump's last full fiscal year in office, agents apprehended only 400,651. During the last two months alone, agents apprehended 399,000 migrants.
In September, agents apprehended 218,763 migrants. This represents an increase of five percent over the 207,597 migrants apprehended one year earlier.
The two million migrant apprehensions do not include migrants who entered the country through the CBP One app and other immigration blanket parole programs not authorized by Congress. Official U.S. Customs and Border Protection reports that include these numbers are not expected to be released until the end of October.
After a huge start to the year, the El Paso Sector closed out with the largest number of migrant apprehensions. El Paso agents apprehended 427,471 migrants during FY23.
This was followed by the Del Rio Sector with 393,226 apprehensions and the Tucson Sector's 373,625. The Rio Grande Valley Sector also reported more than 338,000 apprehensions.
In the five Texas-based Border Patrol sectors, agents apprehended nearly 134,000 of the 218,000 September apprehensions (61 percent). This brought the FY23 total for the Texas-based sectors to more than 1.2 million of the 2.045 million apprehensions (60 percent).